<!content starts here>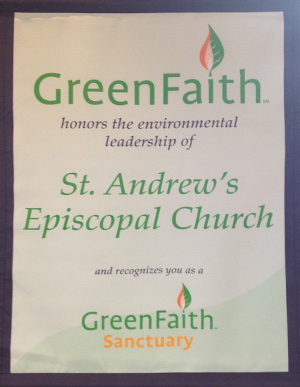 It all began in the early 1990's with a Sunday Morning Adult Formation on the environment that led to the development of Tree Group. Tree Group explored caring for creation through the lenses of theology and practice. Through the years, both Sunday Morning Adult Forum and the Monday Night Study Group did studies on creation and the environment.
In 2008, vestry approved an Environmental Policy Statement drafted by our earth care group and including such things as a commitment to using recycled paper, educating the congregation on recycling and practicing it throughout the church building, and upgrading the building in ways that conserve energy. Implementing these changes brought us to becoming a Greening Congregation through Earth Ministry.
In the fall of 2009, we began our annual 8-week Creation Season with changing themes and special liturgies.
From 2013-2016, Earth Stewardship Ministry, along with the vestry, worked to fulfill the requirements in Justice, Stewardship and Spirit to become a GreenFaith Congregation. The certification program is designed to help churches, synagogues, mosques and temples earn recognition as environmental leaders by carrying out more than two dozen environmental activities over two years. To be certified, a congregation must implement activities in areas such as education, worship, social action, and stewardship (of financial and environmental resources). You may remember some of the things we've done:
participated in climate marches in Olympia and Port Angeles
installed heat pumps and insulation
potted plants in preparation for reforestation around the Elwha River
contributed to the Diocese of The Philippines Carbon Offset program
tracked our energy use
established a Backyard Wildlife Sanctuary
We received our certification in early 2017.
Today, creation care is a vital part of the year-round ministry of St. Andrew's. We host the Interfaith Creation Care Coalition. We emphasize recycling and composting. We continue to upgrade and repair our building to improve energy conservation. We promote social and environmental justice. And we honor God's creation and the beauty all around us in our worship and our lives.
Many thanks to Pat Milliren who put together this history of our ministry for creation care.
On January 24, 2010 St. Andrew's was presented a banner from Earth Ministry honoring the church's vision to practice a sustainable, just, simpler life, and to walk lightly and humbly in God's creation. St. Andrew's green ministry's work has included making numerous changes to the church's facility, including new roofing, insulation, a worm bin, and special attention to conservation of water and energy. Our congregation has also worked to involve children through creation narratives and participation in greening activities, and outreach to the public through events like this past year's Blessing of the Animals, which was advertised and held in an open community space. The worship service in which the Greening Congregation banner was presented was accompanied by creation-honoring hymns and Whidbey Institute's Chinook blessing litany. <!content ends here>